Three- cylinder Dryer is the Beacon of Drying Equipment Industry
Among the wet material drying series products, three cylinder drying machine is efficient and energy saving. Its application in a number of enterprises and industries, it has achieved good results. Rotary three cylinder drying machine has improved the internal structure of single cylinder drying machine, increase the number of the machine before drying to the wet material and prolonged wet material drying time in the machine, plus the sealing, moisture and reasonable measures, so that the production capacity of drying machine has improve by 50-80%, unit volumetric evaporation intensity is up to 120-180kg/m3, the standard coal consumption is only 6-8kg/t compared to single cylinder dryer. It has advanced technology, reasonable operation parameters, simple and feasible operations. it can be widely used in various sectors of the slag, clay, coal, iron, slag and other admixture, dry mixed mortar in the construction industry, as well as chemicals, foundry sand and other industries of raw materials drying. The three cylinder drying machine adopts fusion of high-end technology philosophy and wisdom as a weapon to indicate the direction for the development of drying equipment industry.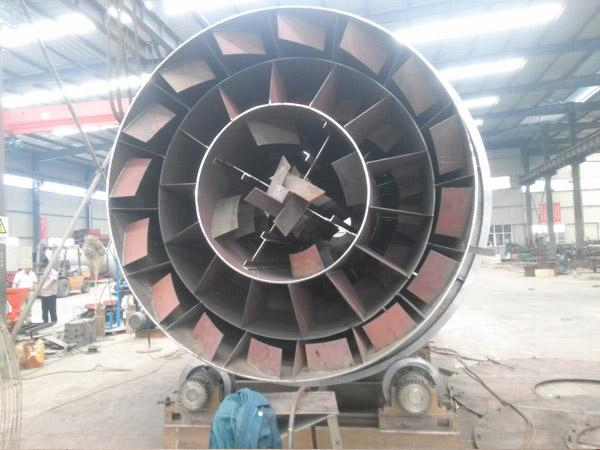 The three cylinder drying machine has great breakthrough in the design concept, the energy saving effect and practical application. It mainly relies on the suction fan, after heating of the air through the heat exchanger, the rotation of the inner cylinder is constantly turning the drying material for heat exchange, so that the material containing water will be heat and vapor and finally discharged out of the machine to achieve the drying of materials in a short period. Industrial drying machine has high working efficiency, fast temperature rise, reasonable structure, low noise, simple operation, stable performance and good drying effect, which is widely used in mining industry. Humidity automatic switching control system not only effectively controls the drying quality, eliminates materials blockage, but also significantly improves the adaptability of different water content materials.
As the experienced three cylinder dryer manufacturer, Fote Machinery has high quality three cylinder dryer for sale, and the three cylinder dryer price of our company is favorable. If you want to know more information about drying equipment, please send emails to [#email#] or directly pay a visit to our company!