Desulfurization gypsum dryer is also known as gypsum powder dryer, and it is indispensable drying equipment in building material industry. At present, this equipment is mainly used for drying materials in mine, chemical, building materials and other industries.
The main application purpose of desulfurization gypsum is to dry it and use it as the retarder of cement, or smelt is as semi-hydrated gypsum for making gypsum board, gypsum block and plastering anhydrite.
Desulfurization gypsum dryer or fgd gypsum dryer adopts horizontal air-swept structure. There is a feeding mouth on the top of the dryer machine and bucket elevator feed the wet materials to the dryer from this feeding mouth. In the upper part of the machine, there is a frequency control spillage plate and V-shaped air classification and separation machine and there are several sets of sliding cones which is fixed inside the machine together with the spillage plate with a cross supporting structure. There is an air counterbalance hole on the solid sliding cone on the foot machine dryer to ensure even ventilation.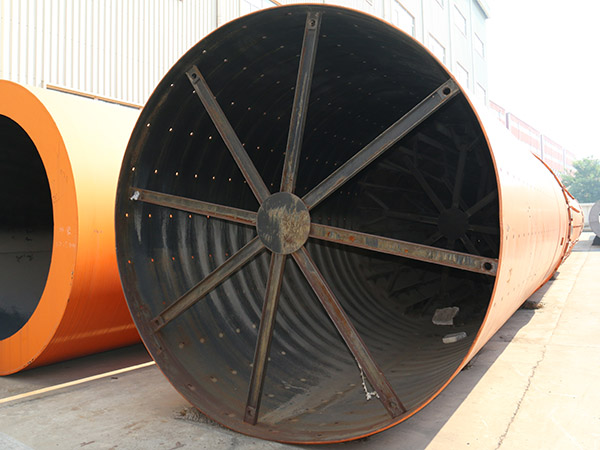 With the increase of environmental awareness, the emission control of the sulfur dioxide in coal-fired flue gas emitted by power plant is increasingly tight, for this reason, desulfuration in power plant is imperative. At present, the processing technology and equipment of desulfurization gypsum are not totally the same with that of natural gypsum, such as material conveyance, dust disposal and calcinations technology. Regarding physical property, desulfurization gypsum is different from natural gypsum, for example, desulfurization gypsum has high purity, big free water, fine granularity, even distribution of particle size, weak grading and high adding water amount. In addition, desulfurization gypsum and natural gypsum has different sources.
Spec./m
(Dia.×Length)

Shell Cubage
(m³)

Capacity
(t/h)

Installation
Obliquity
(%)

Highest Inlet
Air Temperature
(℃)

Main Motor
(kw)

Weight
(t)

Φ1.2×8.0

9.0

1.9~2.4

3~5

700~800

7.5

9

Φ1.2×10

11.3

2.4~3.0

3~5

700~800

7.5

11

Φ1.5×12

21.2

4.5~5.7

3~5

700~800

15

18.5

Φ1.5×14

24.7

5.3~6.6

3~5

700~800

15

19.7

Φ1.5×15

26.5

5.7~7.1

3~5

700~800

15

20.5

Φ1.8×12

30.5

6.5~8.1

3~5

700~800

18.5

21.5

Φ1.8×14

35.6

7.6~9.5

3~5

700~800

18.5

23

Φ2.2×12

45.6

9.7~12.2

3~5

700~800

22

33.5

Φ2.2×14

53.2

11.4~14.2

3~5

700~800

22

36

Φ2.2×16

60.8

13.0~16.2

3~5

700~800

22

38

Φ2.4×14

63.3

13.5~16.9

3~5


700~800

37

45

Φ2.4×18

81.4

17.4~21.7

3~5

700~800

37

49

Φ2.4×20

90.4

19.3~24.1

3~5

700~800

45

54

Φ2.4×22

99.5

21.2~26.5

3~5

700~800

45

58

Φ2.6×24

127.4

27.2~34.0

3~5

700~800

55

73

Φ3.0×20

141.3

30.1~37.7

3~5

700~800

75

85

Φ3.0×25

176.6

37.7~47.1

3~5

700~800

75

95

Φ3.2×25

201

42.9~53.6

3~5

700~800

90

110

Φ3.6×28

285

60.8~76.0

3~5

700~800

160

135
Technical parameters of indirect heat dryer:
Shell
diameter
×shell
Length
Items
Inside
diameter
of outer
shell
(mm)
Inside
diameter
of inner
shell
(mm)
Shell
Length
(m)
Shell
cubage
(m³)
Shell
obliquity
Lifting
blade
form
Highest
inlet air
temperature
(℃)
Dimensions
(m)
Φ1.5×15m
1500
500
15
20.27
3-5%
Lifting form
850
16.2×2.7×2.7
Φ1.5×17m
17
22.97
18.2×2.7×2.7
Φ1.5×19m
19
25.68
20.0×2.9×2.9
Φ1.8×21m
1800
650
21
35.91
3-5%
Lifting form
850
22.5×2.7×2.7
Φ1.8×23m
23
39.33
24.5×2.9×2.9
Φ1.8×25m
25
42.75
26.5×2.9×2.9
Φ2.2×21m
2200
800
21
58.10
3-5%
Lifting form
850
----
Φ2.2×23m
23
63.61
Φ2.2×25m
25
69.15