River sand dryer is a dryer machine that is able to process large quantities of materials and it is rotary dryer. As it has many advantages such as high production capacity, wide application range, small flow resistance and convenient operation, river sand dryer is widely used for drying sand, river sand, ore slag, coal cinder and silica sand.
Structure of River Sand Dryer
River sand drying machine is mainly composed of cylinder, front roller ring, rare roller ring, gear, catch gear, carrier roller, pinion, discharging part, lifting board, reducer, motor, hot air pipe, feeding chute and furnace stack. In addition, according to the specific needs of the customers, the river sand rotary dryer can be equipped with gas generator, combustor, bucket elevator, belt conveyor, quantitative feeder machine, cyclone dust collector and induced draft fan.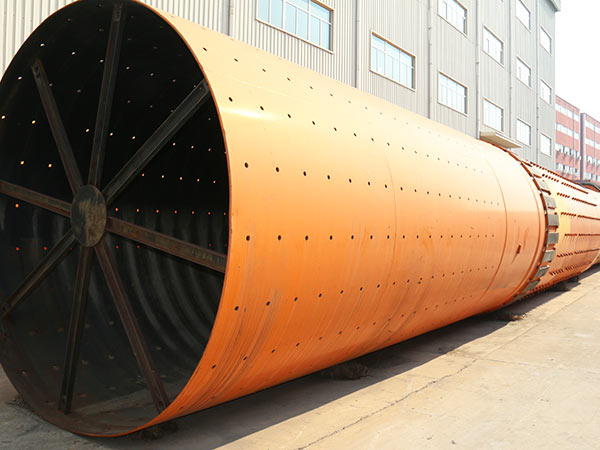 Main Advantages of River Sand Dryer
(1) The equipment investment is 20% of foreign import product, and the equipment is made of wear-resisting manganese plate whose wear resistance is 3-4 times higher than common steel plate.
(2) The initial water content of the materials is 15%, and the final water content is ensure to be below 0.5-1%, making it the first choice for the drying projects such as slag powder and dry-mixed mortar production line in cement plant.
(3) The heat efficiency is improved by over 40% than traditional monocular dryer machine.
(4) The fuel can choose anthracite, soft coal, gangue, oil and gas, and it is able to dry all kinds of bulk material, particles and powdery materials whose size is below 20-40mm.
(5) The floor space is reduced by about 60% than monocular dryer machine, so that the infrastructure investment is reduced by about 60% and the installation is very convenient.
(6) There is no air leakage, thus completing solving the problem of difficult sealing.
(7) The temperature of the discharged materials is below 60℃, so that the materials can be directly stored without being cooling first in the cooling shed.
(8) The temperature of the external cylinder is below 60℃, and that of the waste gas is 120℃, the service time of the bags of the dust collector is 2 times longer.
(9) The coal consumption is only 1/3 of the monocular dryer machine, and electricity is saved by about 40%, and the consumption of ton of standard coal equivalent is 18 Kg.
Spec./m
(Dia.×Length)

Shell Cubage
(m³)

Capacity
(t/h)

Installation
Obliquity
(%)

Highest Inlet
Air Temperature
(℃)

Main Motor
(kw)

Weight
(t)

Φ1.2×8.0

9.0

1.9~2.4

3~5

700~800

7.5

9

Φ1.2×10

11.3

2.4~3.0

3~5

700~800

7.5

11

Φ1.5×12

21.2

4.5~5.7

3~5

700~800

15

18.5

Φ1.5×14

24.7

5.3~6.6

3~5

700~800

15

19.7

Φ1.5×15

26.5

5.7~7.1

3~5

700~800

15

20.5

Φ1.8×12

30.5

6.5~8.1

3~5

700~800

18.5

21.5

Φ1.8×14

35.6

7.6~9.5

3~5

700~800

18.5

23

Φ2.2×12

45.6

9.7~12.2

3~5

700~800

22

33.5

Φ2.2×14

53.2

11.4~14.2

3~5

700~800

22

36

Φ2.2×16

60.8

13.0~16.2

3~5

700~800

22

38

Φ2.4×14

63.3

13.5~16.9

3~5


700~800

37

45

Φ2.4×18

81.4

17.4~21.7

3~5

700~800

37

49

Φ2.4×20

90.4

19.3~24.1

3~5

700~800

45

54

Φ2.4×22

99.5

21.2~26.5

3~5

700~800

45

58

Φ2.6×24

127.4

27.2~34.0

3~5

700~800

55

73

Φ3.0×20

141.3

30.1~37.7

3~5

700~800

75

85

Φ3.0×25

176.6

37.7~47.1

3~5

700~800

75

95

Φ3.2×25

201

42.9~53.6

3~5

700~800

90

110

Φ3.6×28

285

60.8~76.0

3~5

700~800

160

135
Technical parameters of indirect heat dryer:
Shell
diameter
×shell
Length
Items
Inside
diameter
of outer
shell
(mm)
Inside
diameter
of inner
shell
(mm)
Shell
Length
(m)
Shell
cubage
(m³)
Shell
obliquity
Lifting
blade
form
Highest
inlet air
temperature
(℃)
Dimensions
(m)
Φ1.5×15m
1500
500
15
20.27
3-5%
Lifting form
850
16.2×2.7×2.7
Φ1.5×17m
17
22.97
18.2×2.7×2.7
Φ1.5×19m
19
25.68
20.0×2.9×2.9
Φ1.8×21m
1800
650
21
35.91
3-5%
Lifting form
850
22.5×2.7×2.7
Φ1.8×23m
23
39.33
24.5×2.9×2.9
Φ1.8×25m
25
42.75
26.5×2.9×2.9
Φ2.2×21m
2200
800
21
58.10
3-5%
Lifting form
850
----
Φ2.2×23m
23
63.61
Φ2.2×25m
25
69.15