Flotation machine is necessary equipment in most of the ore beneficiation processes, which can be used to separate copper, zinc, lead and other nonferrous metal and non-metal minerals. So, it is also called copper ore flotation machine according to the materials to be processed.
Flotation process must be completed in flotation cells, which can be divided into four stages.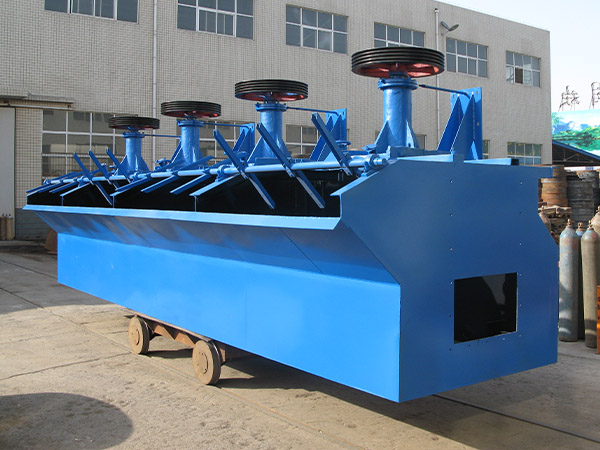 1. Raw Material Preparation
Raw material preparation of flotation work mainly includes fine grinding, size mixing, medicating and stirring. Fine grinding work is very important, which is mainly used to make most of the useful minerals separated. Then add medicine to make the density of ore pulp proper.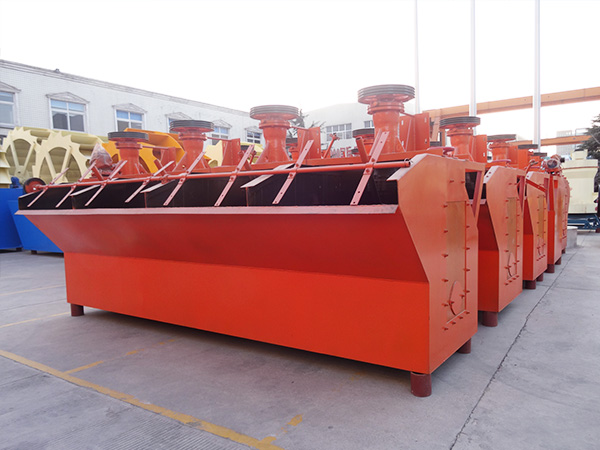 2. Air Agitation
Relying on mixing and air charging device of flotation machine stirs and snifts air, thus making The particles be in suspension state and generate a large number of air bubbles with proper sizes. Then make ore grains and air bubbles contact and collide.
3. Air Bubble Mineralization
After having reacted with flotation agent, surface hydrophobic mineral grains are attached to air bubbles, then rose to ore pulp surface and formed mineralized bubble. Surface hydrophilic mineral particles that cannot attach to air bubbles are stayed in ore pulp. It is the most basic behavior of flotation separation.
4. Scrape Out the Mineralized Bubble
In order to ensure continuous production and timely discharge the mineralized bubble, the rotating scraper of ore flotation equipment will scrape out the mineralized bubble which is called "froth concentrate". The products stayed in ore pulp and discharged finally are called tailings.
Category
Specification
Model
Effective
cubage
(m³)
Processing
capacity
(m³/min)
Main shaft loam board
Dimensions
(L×W×H)
(mm)
Single
trough
Weight
(t)
Power
(kw)
Rotate
speed
(r/min)
Rotate
speed
(r/min)
Power
(kw)
XJK type
flotation
machine
XJK-0.35
0.35
0.18-0.4
1.5
483
25
1.1
700×700×700
0.5
XJK-0.62
0.62
0.3-0.9
3.0
400
25
1.1
900×820×850
1.0
XJK-1.1
1.1
0.6-1.6
5.5
330
25
1.1
1100×1100×1000
1.4
XJK-2.8
2.8
1.5-3.5
11
280
25
1.1
1750×1600×1100
2.5
XJK-5.8
5.8
5-7
22
240
25
1.5
2200×2200×1200
3.6
SF type
flotation
machine
SF-0.37
0.37
0.2-0.4
1.5
386
25
1.1
700×700×750
0.5
SF-0.7
0.7
0.3-0.9
3
400
25
1.1
900×820×950
1.0
SF-1.2
1.2
0.6-1.6
5.5
330
25
1.1
1100×1100×1100
1.9
SF-2.8
2.8
1.5-3.5
11
268
25
1.1
1750×1600×1150
2.6
SF-4
4
2-4
15
220
25
1.5
1850×2050×1200
2.9
SF-8
8
4-8
30
191
25
1.5
2200×2900×1400
4.2
SF-10
10
5-10
30
191
25
1.5
2200×2900×1700
4.5
SF-20
20
5-20
30×2
191
25
1.5
2850×3800×2000
9.9
JJF type
flotation
machine
JJF-2
2
1-3
7.5
443
25
1.5
1400×1400×1100
1.7
JJF-4
4
2-4
11
305
25
1.5
1600×2150×1250
2.4
JJF-8
8
4-8
22
233
25
1.5
2200×2900×1400
4.5
JJF-10
10
5-10
22
233
25
1.5
2200×2900×1700
4.9
JJF-16
16
5-16
30
180
25
1.5
2850×3800×1700
8.0
JJF-20
20
5-20
37
180
25
1.5
2850×3800×2000
10.5