Description of Ceramsite sand (LECA)production line
FTM® Ceramsite sand production line is also called LECA (light expanded clay aggregate) production plant and lightweight aggregate plant, which is refers to the whole process from raw material configuration to sinter molding, of which the main processes are crushing, burdening, grinding, ball making, calcining, cooling, screening and packing.
Ceramsite sand is a kind of ceramic particle with high intensity, which can be used in oil field support and belong to environmentally friendly product.The main raw materials of ceramsite sand are bauxite, manganese powder, clay, slate, shale, coal gangue, etc.
LECA Use Fields
1.Mixed in the soil

2.As a draining layer

3. As a humidity preservation

1. layer for hanging gardens

2. layer for flower pots

3. layer for plants in vases.

1.Filling up of surfaces for the cultivation of vase plants.

2. Arrangement of flower pots
Benefits of FTM® Leca Production Line
1.The whole process of ceramic sand production line has the advantages of more reasonable design and smooth operation process. These advantages improve the production efficiency and reduce the operation cost.
2.The whole plant has a high degree of automation, FTM® ceramic sand production line with mechanized joint control operation can save a lot of manpower costs for the user.
3.The calcination parameters of core equipment can be real-time monitoring, this feature can fully guarantee the final product firing quality, improve the quality of finished products.
4. The heat utilization of FTM® ceramic sand production line is high. it can reduce the entire production line energy consumption, lower the operating costs for our users, The production costs of the plant reduced greatly.
Working Process of Ceramsite Sand Production Line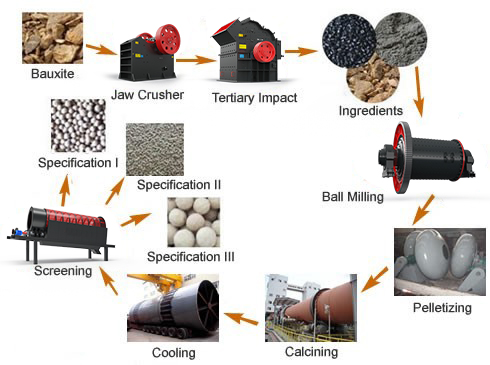 1. Firstly, crush the newly mined bauxite to with 8 mm.
2. Automatically weight the ingredients and then use ball mill to grind.
3. Raw meal powder is sent to a small stock bin and manufactured balls with different grain diameters by the rotating of disk granulator.
4. Balls enter rotary kiln for high-temperature calcination and be burned into ceramsite sand.
5. The burned ceramsite has high temperature. After being cooled by cooling machine, the temperature of ceramsite sand drops to normal temperature.