Brief Introduction to Process of Coal Briquette Press Machine
Pulverized coal molding process can be divided into cold press molding and hot press molding, which is dominated by cold press molding. Coal press molding is also divided into binder forming and no binder forming, which is dominated by binder forming. According to national conditions of our country, pulverized coal molding more uses cold press molding which is adding binder, medium and low pressure and without drying.
Why we need coal briquette machine
At present, people do take the protection of the environment very seriously and the "environmental law" has been released by all nations government. At the same time, the environment protection regulations are getting more and more rigorous. But in many cold areas, due to the need to burn a large number of coal each year and the annual emissions of soot and sulfur dioxide are more, these places have become the hardest hit by air pollution. Many countries have begun to rectify the polluted coal boilers, dismantle heavily polluted large chimneys massively, promote the use of clean fuel and develop the central heating and the use of briquette. The burning of coal will be gradually canceled.
In that case then, the role of coal briquette machine is thus more important than ever before. All things equal, the finished coal briquettes of coal briquette machine will improve coal economization efficiency, the ratio up to 30% ~40%. They enjoy the features of long combustion time, less dust and coal ash and full burning and so on. The soot emissions can be reduced by more than 90%, the particulate emissions reduce 80%, sulfur dioxide emissions reduce more than 70%, nitrogen oxide emissions reduce 30% -50% or more and carcinogens emissions reduce 60% -90%.It is especially effective in saving energy and environmental protection and fully in line with industrial policy which is advocated by various countries in the world.
Application of Coal Briquette Machine
Coal Briquette Machine can be used to press pulverized coal, coking coal, aluminum, iron, iron powder, carbon powder, coal powder, slag, gypsum, tailings, sludge, kaolin, clay, activated carbon and various kinds of powder, waste and waste residue in refractory materials, power plant, metallurgy, chemical industry, energy, transportation, heat supply and other industries.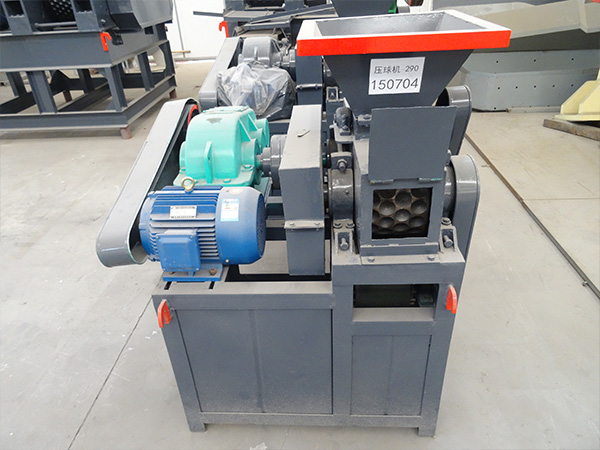 The pressed materials of this pulverized coal briquetting machine is of energy conservation, environmental protection and easy transportation. It improves utilization rate of waste materials and has good economic and social benefits.
Finished product performance
1. Good adhesiveness, good fluidity and coal particles are easily dispersed
2. Less coal ash , does not affect slagging, does not reduce the fixed carbon
3. High molding rate , good hot and cold strength
4. low cost, easy to use, add a small amount
5. Wide range of application,
6. Environment protecting, no pollution, improve gas conversion rate
Finished product application areas
1. Residents living
2. Increase the temperature in winter
3. Boilers for civilian applications
4. Shower and catering
Model
Roll diamter
(mm)
Roll width
(mm)
Total pressure
(t)
Main motor power
(kw)
Output
(t)
Weight
(t)
GY520-150
520
196
150
55
2.2-3.5
13
GY650-220
650
200
220
110
4-6.5
19.2
GY750-300
750
280
300
185
6-8.5
34
GY1000-350
1000
440
350
250
10-15
50.8
GY1000-450
1000
504
450
280
14-17
58.5
GY1000-500
1000
504
500
315
15-20
58.5
GYS1000-500
1000
600
500
280
17-21
56.5
GY1000-540
1000
900
540
185Kw×2
30-35
60
GY1200-800
1200
900
800
280Kw×2
40
110
GY1400-1000
1400
1000
1000
400Kw×2
50
156