Fote Copper Recycling Machine is Environmentally Friendly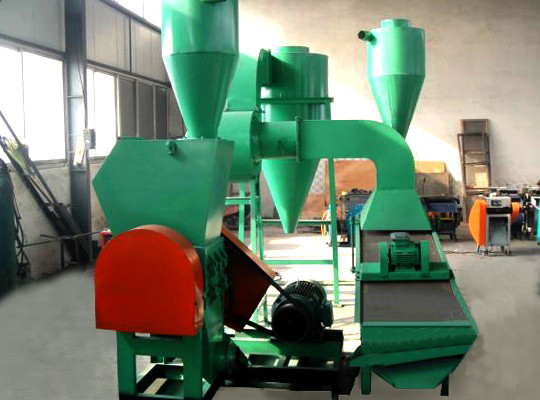 Copper recycling machine is one of the main environmental protection products of Fote Machinery. Its major characteristic is that it can separate cables without washing. With electrostatic separator, it can achieve 99.8% recycling rate without dust and pollution. The entire machine is convenient for transportation, installation and debugging, which has good stability and high yield. Customers can put it into work when the power is connected. The machine has successfully solved the 'burning' and 'washing' methods, which can improve the quality of the copper so as to achieve the aim of comprehensive utilization.
The new kind of copper recycling machine is mainly developed by our professional technology personnel based on the demand of the market. It adopts dry crushing and grinding to crush scrap cable, wire and other raw materials into metal, plastics and other non-metallic mixture by high voltage electrostatic separator. The metal recovery rate is above 99%, which has reached the objective of comprehensive utilization. It has high economic benefit without dust and pollution. Fote copper recycling machine has following advantages:
1. The crushing ratio has been greatly improved when compared with shaking table;
2. It has strong adaptability, which can process waste copper and cable;
3. The purity of the product is high, which can reach more than 99.8;
4. The equipment has good environmental benefits. Because the machine is equipped with large dust removal equipment, it will not cause any pollution to the environment.
Fote Machinery is specialized in producing copper recycling machine with good quality and high recovery rate, which can guarantee the quality of copper and separate the waste wire and cable in the metal at the highest level. Customers can get high purity of copper and other extracted metal to process or sell, so as to achieve more economic benefits.
Related Products:
Related News: