Portable stone crusher video:
When we made our first portable stone crusher over 40 years ago, we were driven by exactly what brings you here: We needed a mobile crusher that just worked—we didn't have time to fuss with anything less. We needed a portable stone crusher that was reliable, efficient and built with the understanding that capacity is king. So, we made one ourselves. As owner-operators of the same equipment you use, we started and continue making the toughest, longest lasting crushers out there. We're honored to offer that same ingenuity and know-how to you in every portable stone crusher we build today. For you, and for us. That's FTM tough. And we're sticking to it.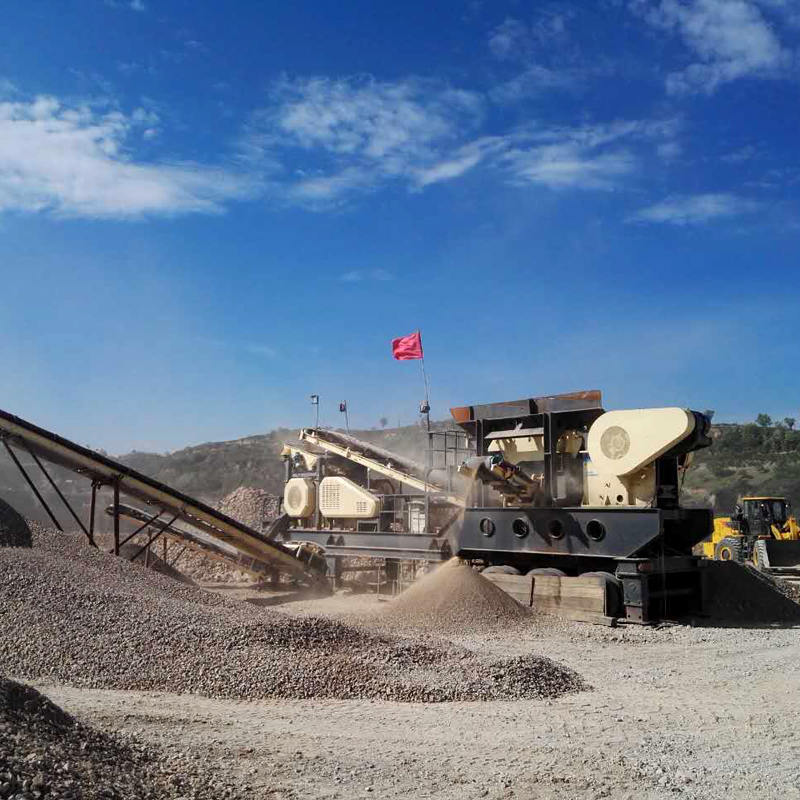 Portable stone crusher is suitable for crushing soft, hard and super hard materials, which is widely used in smelting, building materials, highway, railway, water conservancy, chemical industry and many other departments. It is also the important equipment of mining machinery. Fote portable stone crusher is a kind of new, high efficiency and energy saving mobile crusher, which has been exported to Russia, Kazakhstan, Mongolia, Azerbaijan, North Korea, Vietnam, Malaysia, Turkey, Iran, Canada as well as other countries and regions.
Portable Stone Crusher Classification :
According to the different production process, portable stone crusher can be divided into tracked portable stone crusher and wheeled portable stone crusher and construction waste crushing plant.
Tracked Portable Stone Crusher
Tracked mobile crusher can be divided into four series-tracked cone crusher, tracked portable jaw crusher, tracked portable impact crusher, tracked portable mobile crushing and screening plant. Tracked portable crusher can be used for crushing and recycling operations of rocks, ores, blocks of the road asphalt concrete, the dismantled construction cement concrete material.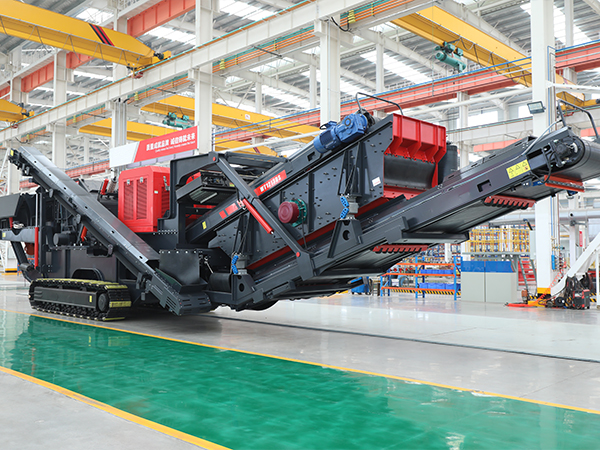 Tracked Portable Stone Crusher Advantages:
High reliability
Excellent performance
Easy transportation
Short assembly time
Simple operation and repair
Wheeled Portable Stone Crusher
Wheeled mobile crusher is also called semi portable crusher, which is widely used in mining ore crushing, construction waste recycling, construction aggregate production, highway, railway, road and bridge, construction and other industries. It is often used to crush all kinds of rocks with various hardness, for example granite, marble, sandstone, basalt, shale, limestone, quartz stone, iron ore, copper ore, manganese ore, coal gangue, non-ferrous metal ore, pebbles and city demolition construction wastes.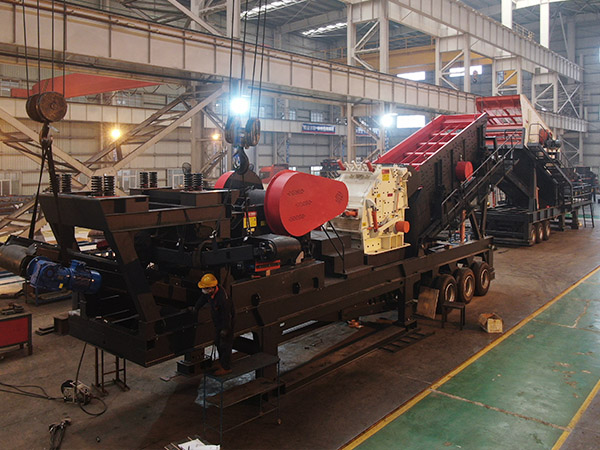 Construction Waste Crushing Plant
Construction waste crushing plant produced by Fote Machinery has adopted advanced construction waste disposal technology, which can process industrial waste slag, cinder, coal rock, slag, fly ash, building materials, non-metallic solid waste and other solid waste into new building materials which are conforming to specification testing quality. With the different configurations, the construction waste rate can reach 80-100% without secondary pollution. It can achieve ideal environmental protection effect of near zero pollution and zero emissions. Customers can also choose fixed type construction waste crushing line according to the construction requirements.The construction waste can be used as fine concrete aggregate after being crushed by mobile crusher. It can also be used to produce block bricks, tiles and highway roadbed, which has wide application ranges.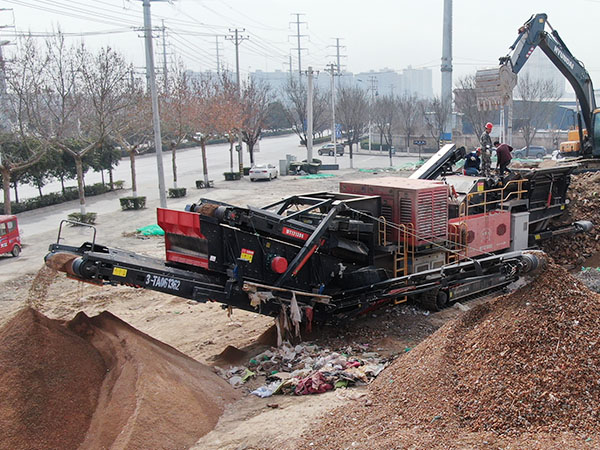 Portable Rock Crusher Auxiliary Equipment:
Portable rock crusher can be equipped with different crushing and screening equipment according to the actual situations, such as vibrating feeder, jaw crusher, cone crusher, impact crusher, belt conveyor, the main control device, power device, etc. Portable stone crusher can be also equipped with the double-deck vibrating screen, four-deck vibrating screen, etc.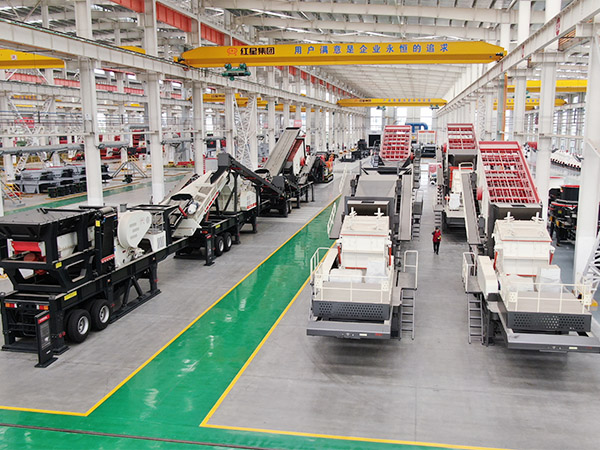 Portable Stone Crusher Manufacturer:
As the professional mobile crusher manufacturer, Fote Machinery has portable stone crusher for sale, which includes wheeled portable stone crusher and crawler portable stone crusher, of which wheeled portable stone crusher price is low, crawler portable stone crusher has advanced technology. With cone crusher, jaw crusher, impact crusher and vibrating screen, they can form joint or closed loop type. If you are interested in our equipment, please leave us a message or send inquiries to us, and our professional sales staff will contact you as soon as possible!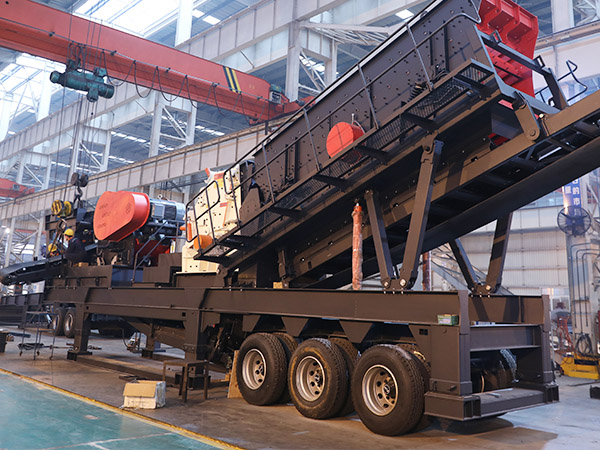 MOBLIE IMPACT CRUSHER TECHICAL PARAMETERS
| | | | | | |
| --- | --- | --- | --- | --- | --- |
| Model | FTM938F1210 | FTM938FW1214 | FTM1149F1315 | FTM1349HD1110 | FTM1349HD1315 |
| Transportation Length(mm) | 12000 | 12000 | 13900 | 15450 | 15450 |
| Transportation Width(mm) | 2550 | 2550 | 2900 | 2950 | 2950 |
| Transportation Height(mm) | 3900 | 3900 | 4450 | 4500 | 4500 |
| Maximum Length(mm) | 12500 | 12500 | 13900 | 15450 | 15450 |
| Maximum Width(mm) | 3250 | 3260 | 3250 | 3250 | 3250 |
| Maximum Height(mm) | 5100 | 5200 | 5200 | 5200 | 5200 |
| Weight(t) | 39 | 44 | 54 | 62 | 62 |
| Crusher Model | PF-1210 | PF-1214 | PF-1315 | HD1110 | HD1315 |
| The Maximum Feeding Size(mm) | 350 | 350 | 500 | 400 | 700 |
| Production Capacity(t/h) | 70-130 | 100-180 | 130-250 | 112 | 280 |
| Vibrating Feeder | ZSW950×3800 | ZSW950×3800 | ZSW110×4900 | ZSW130×4900 | ZSW130×4900 |
| Main Belt Conveyor | B800×8.5M | B800×8.5M | B1000×9.5M | B800×11M | B1200×11M |
| Side-opening Belt conveyor(Optional) | B500×3.2M | B500×3.2M | B650×4M | B650×4M | B650×4M |
| Genset(Optional) (kw) | 320 | 320 | 400 | 320 | 440 |
| Iron Separator (Optional)(kw) | RCYD(C)-8 | RCYD(C)-8 | RCYD(C)-10 | RCYD(C)-8 | RCYD(C)-12 |
MOBLIE JAW CRUSHER TECHNICAL PARAMETERS
| | | | | |
| --- | --- | --- | --- | --- |
| Model | FTM938HD80 | FTM1149HD98 | FTM1349HD110 | FTM1349HD125 |
| Transportation Length(mm) | 12600 | 13500 | 14500 | 15200 |
| Transportation Width(mm) | 2600 | 2700 | 2800 | 2900 |
| Transportation Height(mm) | 3870 | 4200 | 4450 | 4500 |
| Maximum Length(mm) | 12500 | 14000 | 16100 | 16700 |
| Maximum Width(mm) | 4100 | 4500 | 5100 | 5100 |
| Maximum Height(mm) | 4100 | 4900 | 5000 | 5300 |
| Weight(t) | 39 | 57 | 55 | 65 |
| Tire Configuration | Dual-axial | Dual-axial | Dual-axial | Dual-axial |
| Jaw Crusher | HD80 | HD98 | HD110 | HD125 |
| Maximum Feeding Size(mm) | 500 | 550 | 660 | 800 |
| Discharge Opening Size(mm) | 50-150 | 75-175 | 100-200 | 125-225 |
| Capacity(t/h) | 85-275 | 110-350 | 215-510 | 280-650 |
| Vibrating Model | ZSW380×95 | ZSW420×110 | ZSW490×130 | ZSW490×130 |
| Main Belt Conveyor | B800×8.5M | B1000×9.5M | B1000×11M | B1200×11M |
| Side-opening Belt conveyor(Optional) | B500×3M | B650×3.5M | B650×4M | B650×4M |
| Genset(Optional) (kw) | 200 | 250 | 270 | 400 |
| Iron Separator (Optional) | RCYD(C)-8 | RCYD(C)-10 | RCYD(C)-10 | RCYD(C)-12 |